Think of home decor, DIY, creative workshops and furniture upcycling. And it's Big Blue Trunk that comes to one's mind. For those who eat, pray and love color, this Singapore-based exclusive stockist of Annie Sloan Chalk Paint®, Saltwash and Iron Orchid Designs is the go-to place.
Big Blue Trunk approached us at Cube InfoTech for the website. Thus, the web designing team made a website that evokes creativity and uniqueness. In order to do that, there are visual elements, color schemes, images and videos on the website. Not only that, the pastel blue-hue-themed website has sliding carousels, everything from chalk paints, workshops, home decor ideas and DIY crafts on the Homepage of the site. Today, from upcoming events to DIY tutorials, the website has it all. Making it one of the most visited furniture website in Singapore.
Swimwear & Winter Apparel Website Design
Here comes a brand curated by women. Whether it's the sea or snow, there's nothing that stops Saara and Kathy from exploring the horizons.
That's what got them the idea to create a space from where people could buy clothing for every kind of adventure. From skiing to surfing, Salt And Snow has every kind of clothes and accessory one needs while exploring the world.
The brand wanted us to create a solid brand identity. Thus, as a branding agency, the branding team created an adventurous brand identity. From the brand's logo to the website design and color combination, everything is carefully created to convey an adventurous brand.
Additionally, there's even a separate blog page by the name Wanderist that supports spreading the word about this brand. With all this in place, the site today is one of the most preferred sites for buying adventure clothing from famous brands.
Pet Products Website Design
Pet dogs cannot express what troubles them. But as a family member, keeping them in good health is of utmost importance. That's where Pet Wellness Direct comes into the picture. They create wellness products for dogs of all types and ages.
Their website was not garnering much attention. And this concern brought them to us. As a digital marketing agency, we chose to craft a digital marketing and promoting journey that will shoot up the number of site visitors.
We chose to revamp the company's account on two of the most famous social media platforms- Facebook and Instagram. Then, a daily regime of creating and sharing reels, stories and posts started. From pet issues, to veterinary doctors' insights and the products, there was something new everyday. As a result, today thousands of pet owners have turned into customers of Pet Wellness Direct.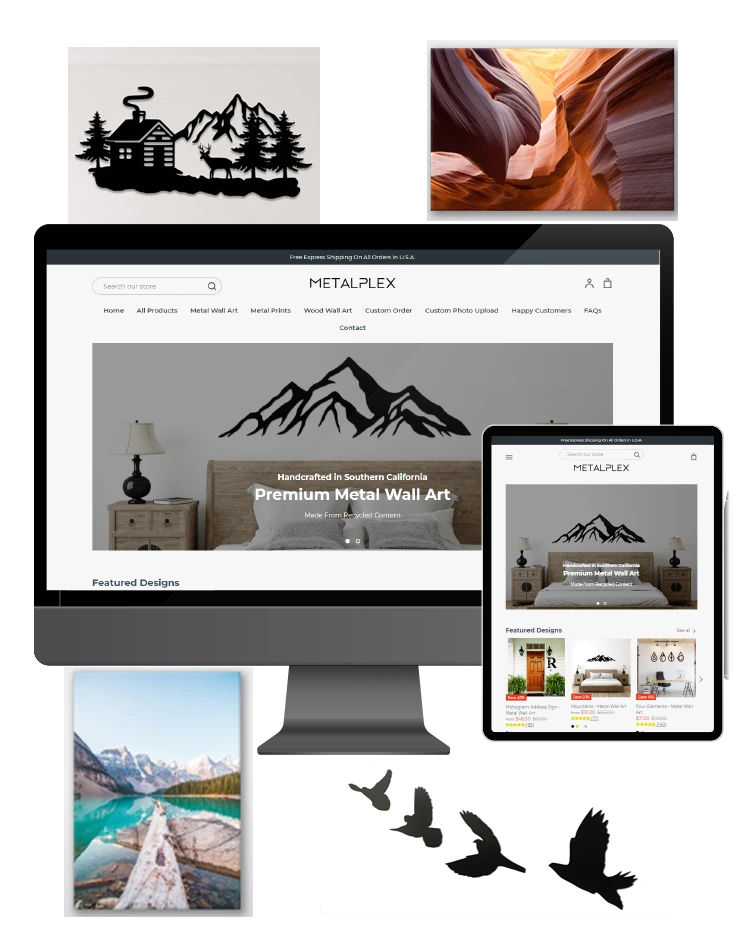 Metal Plex specialized in wall hangings. From scenic pictures, LED and neon art to family photo frames they have some jaw-droppingly beautiful wall art to shop for. The brand has more than 50,000 customers worldwide. Also, they are on the list of Buzzfeed.
But Metal Plex had to deal with cart abandonment issues. Though customers were very happy with the products, card abandonment was taking a toll on the business.
They came in contact with us for some advice. It was then that the web designing team observed that the website's check-out flow needed serious work. For example, there were one or two payment options. But today there are multiple payment options to cover a large demography. Also, the long check-out process was shortened to let people buy the products right away. Doing many other small and big changes made a great recovery from people leaving the sites without purchasing anything.
Rockin Cushions is the brand that people choose to accentuate Ikea furniture. With slipcovers for every kind of Ikea furniture, the company helps millions revamp Ikea furniture – from garden couches, dining chairs to bar stools. All thanks to the owner Michelle, a graphic designer who herself worked as an Ikea interior designer for 10 years. 
Rockin Cushions website was not making good sales, in spite of reaching the target audience. As a result, our CRO expert team did some research. And found that the website was not optimized well enough.
Therefore, the team sat down to revamp the website. From optimizing images, infusing the website with the right keywords, creating a blog page with useful content, working on funnels, integrating useful funcitonalities; they did it all. As a result, today the website has a good conversion rate and AOV, thus is making landmark sales.
Organic Skincare Products Website Design
Mothers know the pain when their child suffers from Eczema or has sensitive skin. They are on a quest to keep their kids away from steroids. There comes Shoosha, a hypoallergenic, organic brand that has absolutely safe products for babies, kids and mothers. One of the very first and successful brands that's food grade USDA Certified.  So safe that one can even eat it and find now side effects. 
As there is a surge in organic products creating a prominent space in the organic market was initially a challenge. But to create an immense reach, our web designing team first created a mobile website that appears like a mobile app. Secondly, social media managers relentlessly worked to create a buzz on major social media platforms. As a result, the moment users land on the website's homepage, they discover a brand that answers all its woes.
Sports Apparel Website Design
Ask those who exercise will tell you how important clothing is for a stress-free regime. Though normal leggings and sportswear are fun and easy to wear, one always wants to get more support on tummies and thighs. Here comes Fit Pink Fitness, that offers high waist and body-supporting workout wear. Their most loved product, compression leggings, is so famous that the company has to start pre-orders.
The company had been dealing with one website issue that was costing them heavily. The website was not mobile-friendly.
Our web development team got in their shoes to make the website mobile-friendly. From revising the website to making it mobile responsive to other changes all were put in effect. Hamburger menu, vertical scrolling, high- resolution zoomable images, all came into effect. Due to this, the company got to achieve more sales, lower ad costs.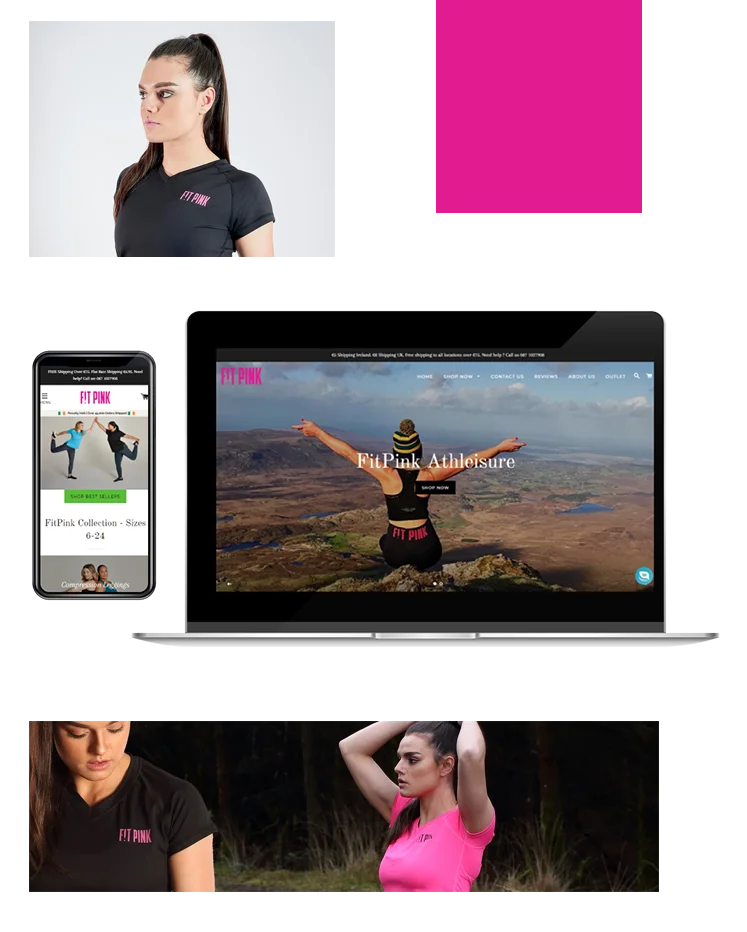 People love gadgets that make life easy. But the issue is getting all such gadgets under one roof. Wait no more as Trendvana brings everything that's trendy and useful under one aegis.
Creating an online store that has innumerable new products can be confusing. Because, it's a new product idea that people may have never heard of. Thus, giving a clear direction to users was vital.
Therefore, our web designing team put products under multiple heads. Then further, there were sub-categories. Thus, a home ideas section has kitchen, cooking, bathroom, etc. clearly listed.  Also, it made buying easy without sounding pushy. Users easily locate things on Trendvana making it a go to space for new ideas.
Holistic Medicine Website Design
Roots to Healing is all about holistic medicine. From anxiety to autism, our mother nature offers natural alternatives to cure them. Lucy, a holistic healer, a homeopath and a certified C.E.A.S.E therapist started Roots to Healing for spreading this knowledge.
Creating a solid brand awareness was a big issue for Lucy as there was limited knowledge about this kind of healing.
Therefore, our web designers then decided to create a solid brand identity for Roots to Healing. From user interface to web designing to website theme, everything evoked natural healing. Due to this, target users had a great learning experience about the vision and mission of the brand. As a result, today the company has immense brand popularity.
Artificial Tattoo Website Design
Don't want a tattoo that will leave a permanent mark? Going to the beach but have nothing to flaunt? Here comes Simply Inked tattoos with every kind of temporary tattoo one can imagine. From tribal art to geometric shapes, from quotes to astrology tattoos, these long-lasting temporary tattoos are what makes one look trendy.
Our web designers used a black and white color theme for the site. Secondly, the website's home page has image carousels that help site users to reach quickly to their preferred choices.
Apart from that, the major challenge was portraying the tattoo images. A simple image was not enough. That's why, the graphic designers had the daunting task of customizing images instead of using generic images. Due to this, users got to have a clear idea of the size, appearance, etc. of the tattoos.
Fashion Jewelry Website Design
Novadab has been curating handmade bracelets, necklaces and earrings since 2015. What makes this brand an absolute favorite is its versatility and unique designs. From Halloween to Mother's Day, they have loads of handmade designs and customized jewelry to choose from.
Novadab was not at all happy with its website. Nothing was making the brand reach its online sales target. They had earlier tried paid ads, but that left a hole in finances. The owner thus came for help from us.
Data analysts revealed that the site failed on various digital marketing algorithms. Which in simple terms means that the website design was not properly optimized. Not only that, the website was slow because of unoptimized and heavy web pages. Once the changes came into effect, sales now have skyrocketed twice the target and Novadab is with us for years.
BABSHair & Beauty, LLC™ is the one-stop shop for synthetic hair wigs and hair products. An online shop where one gets Afro-texture hair or kinky hair products. From kinky human hair or synthetic hair wigs, they also have Afro-textured hair edge gels, relaxers, conditioners, etc.
Babs Hair urgently came down to us because their website was facing website security issues. That's when the web developers' team jumped into checking the site. 
Firstly, the website had an expired SSL certificate and a ragged web hosting service. And with time the add-ons, plug-ins and templates were no longer in use. Due to this, the site was not functioning normally. As a rescue, the web developers scanned through the website and did some re-coding. With some new coding and changes the website now works smoothly.
Custom Hologram Website Design
My Perfect Neighbour sells handmade family monograms. The team of husband and wife love creating handmade family monograms. They believe in creating pieces that give value to each dollar spent on creating monograms. From showcasing personal style to family heritage, the monograms are custom-made by sourcing steel from Canada.
Hence, when the family came down to create a website, they wanted the products to do the talking. And so, the web designing team thought of using white space to create a beautiful website. From the logos to the headers and footers of the website, everything is minimal and simple. Also, there is a major emphasis on displaying real-life images on the site for people to understand what they are paying for. Due to this, the business has been doing really well, not only in Canada but also internationally.
Let's Start Something new

Say Hello!
Excepteur sint occaecat cupidatat non proident, sunt in culpa qui officia deserunt mollit laborum. Sed ut perspiciatis unde omnis.